Merchandise Distribution Platform Business
Services
One of the largest B2B wholesale purchasing platforms in Japan.
An auction site where you can bid on product defects that have not yet been sold among vendors.
A platform that allows you to wholesale and purchase stock and returned goods in lots.
NETSEA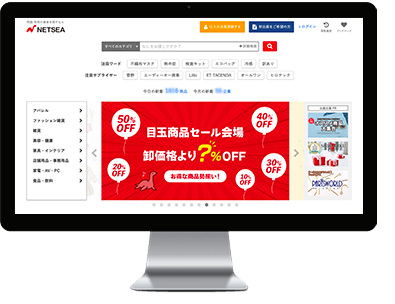 One of Japan's largest BtoB wholesale and procurement platforms
Expand sales channels
Determine the current value of inventory
This BtoB wholesale and procurement platform connects 5,000 registered suppliers, such as manufacturers and wholesalers, with 300,000 retailers and other registered buyers. A wide array of goods including apparel, furniture, home interior goods, and general merchandise are traded on this platform. The annual transaction value exceeds ¥7.0 billion.

NETSEA Auction
Auction site
NETSEA Auction is an auction site that allows you to bid fairly and impartially without any bidding fees for product defects that are not available among vendors.